​Flight Tips: Key Strategies When Packing Your Bags
Posted by Alexander C. on 23rd Nov 2022
If you're not a frequent flier, airports and their many rules and regulations can get confusing and overwhelming. Personal item? Carry-on? Checked bag? What does it all mean? There are several ways you can pack your bags when flying and the length of your trip and what you intend to bring will determine what works best. Besides what is prohibited by the TSA, there are certain items that might need to be put in a bag and stowed in the cargo hold, and others that must be brought with you into the cabin. Let's take a look at the different considerations you need to take when packing your bags and the best strategy for your luggage.
What do you need to pack?
Your packing list will be very different depending on where you're going, who you're traveling with, and how long you'll be there. A quick, one-day business trip could fit in a small bag, but a weeklong vacation with your kids will take up quite a bit more space in your luggage.
Think about all the activities you'll need to dress for when you're traveling: do you need swimwear for the pool or a little something for a black-tie event, do you need some hiking gear for a nature trail, or maybe a packed backpack for a week around amusement parks? Once you have considered all the clothes and gear you'll absolutely need, think about what would be nice to have but not totally necessary, like an extra pair of pants, a good book, or a camera. These will be the items you add in if you have room, otherwise if they don't fit you're fine leaving them at home.
What are you allowed to pack?
Each airline has slightly different rules, but airports generally have the same standards. Certain items will be required to be checked while others can only be brought in your carry-on or personal item. The TSA has a handy tool you can use to check if an item you want to bring is allowed on the plane and where it has to be stowed. TSA Agents at the airport have the final say whether or not something is allowed through security in your pocket, personal item, or carry-on, but the rules are consistent. In general:
Must be checked

Items that can be used as a weapon
Over 3.4oz of liquid

Must be in carry-on

Lithium batteries
Live fish

Prohibited

Fuels
Pressurized containers like spray paint
Rocket launchers
Using a Personal Item
Most airlines allow for both a personal item (like a purse or backpack) and a carry-on (full-size luggage), but some budget airlines will only allow a personal item and offer carry-on bags for an upgrade fee; be sure to check what you're paying for before you book your flight. Even if I feel I can pack everything in my personal item, I like having the freedom to separate my items based on my needs. My personal item of choice is a regular backpack, loaded with my electronics (a laptop, charging cables, spare battery banks, etc.) and my clear ziploc bag with all my toiletries. Keeping my toiletries easily accessible makes getting through security fast and easy so I don't have to dig around my suitcase for them in the fast-paced security line.
Using a Carry-On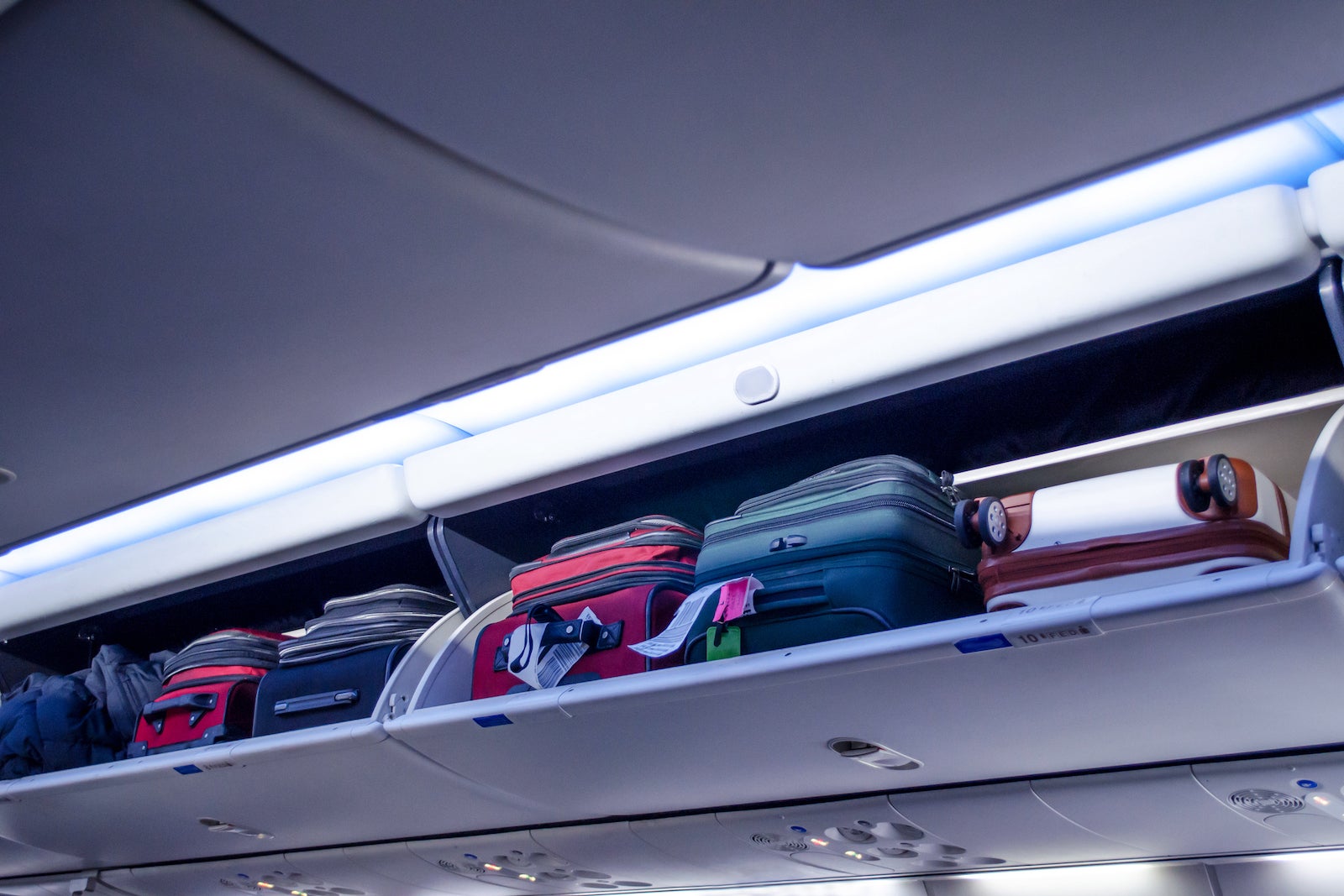 Even a couple days worth of clothes will be enough to make a carry-on the wiser choice for luggage. Generally the size of the carry-ons is limited to a maximum of 22" x 14" x 9," but each airline might have some limitations, so reading the fine print is key here. Keep the items in your carry-on limited to those you don't need to access often, as the last thing you want to need is to take your entire suitcase out of the overhead bin and open it in the aisle to get something you need. With some careful planning, a personal item and carry-on for everyone in your group will be enough luggage space to pack everything in, but for longer stays or unique destinations, carry-ons just might not be big enough for everything you need.
Using a Checked Bag
Nowadays, very few airlines offer free checked bags. Instead, you'll be charged a fee which makes it important to make sure it's worthwhile. The standard checked bag is $50 for the first checked bag under 50 lbs and under 62 inches (length + width + height). To avoid the excessive oversized bag fees, use a tape measure and a bathroom scale to make sure your packed bag is well below the limits. If you need multiple checked bags and have multiple people in your group, spread out the checked bags when buying tickets, as the cost of checked bags increases with each bag: a third checked bag usually costs $150 on top of the $50 each for the first and second for $250 total, but three people having one checked bag each will only cost $150.
A week-long vacation will test the limits of a maximum-size carry-on, but a checked bag will provide plenty of breathing room. Are you going to be buying a bunch of souvenirs or receiving gifts from family? Make sure you pack light to be able to bring these back or rearrange your bags to accommodate. The biggest thing to consider with checked bags is keeping breakable objects out of them as the baggage handling systems don't pull any punches; trade out items from your carry-on or personal item to make room for a breakable item. As a last resort to get your souvenir coffee mug to survive the journey home, wrap it in clothes and pack it in the center of your checked bag to give it some cushion from the sorting machines.
When checking a bag, be sure to give yourself plenty of time to get through the front desk. To give their handlers enough time to move your baggage through the airport, you will need to check in at least 45 minutes before departure, otherwise your baggage will be turned away and you'll be left scrambling. Rule of thumb: anytime you need to fly, leave plenty of room for delays, long lines, traffic or any other unforeseen hiccup that'll prevent you from making your flight on time. Personally, I'd much rather sit in an airport for an extra hour, sure that I'll board my flight on time rather than rushing and checking my watch every minute as boarding time gets closer and closer.
Taking the time to plan ahead, think through your vacation, and solve problems before they happen is the key to successful air-travel. Packing a bag, small or large, will determine how prepared you are and how stress-free your time is. With any luck, we've taught you something new and given you a better understanding of what to expect the next time you need to board a plane and head off to your next adventure.
Safe travels!